Back
Visit the blog of 2005 and 2006
2004

December 24 2004 Skide godt Egon!
Today I went over to see the new road named to honour the late danish actor Ove Sprogøe. The road is leading to the prison in Vridsløse and has now been named after one of Ove Sprogøes great roles in the Olsens banden series, where Egon Olsen is released from prison in the beginning of the film and put back in at the end of the film, both times through the gate you can see at the end of the road on the picture. so I wish you all a merry christmas.

December 23 2004 art project
This month a project at the royal school of Library and information science launched a website to promote thee growing underground art environment in Aalborg. I am honoured that they asked me to participate along with my good friend Kiloton. I have made some pictures as the one above and Kiloton has let himself be inspired by them to do some nice music. Thumbs up for the nice project goes to Anette and Dorthe. Check out the project at: www.kunst2.tk

Sunday December 19 2004 The Titans clashed!
Yesterday the transparent christmas event, Clash of the Titans took place at 1000fryd. The event made Techno meet Drum'n'Bass in the form of the aabtek crew battling it out with the 9000massive crew. The aabtek crew won the battle narrowly. Earlier the same evening a nice row of live concerts was held, I had my debut playing my own music, you can hear a new track made for this event in my music section.

Saturday December 11 Relaxing
Wow what a nice trip to Berlin! Thanks to all the nice people I met there. I need to update you an what I have experienced. After arriving friday and having a nice evening with Sune, Trine and Silas.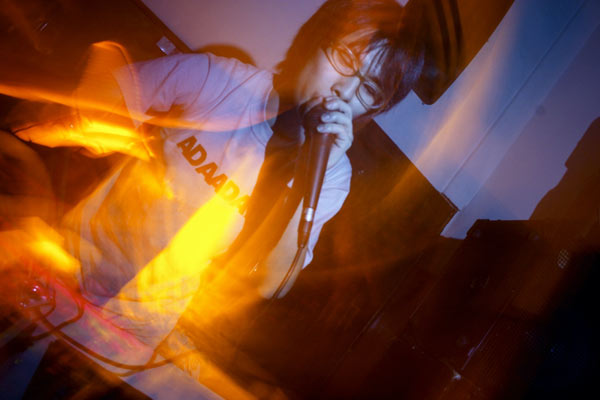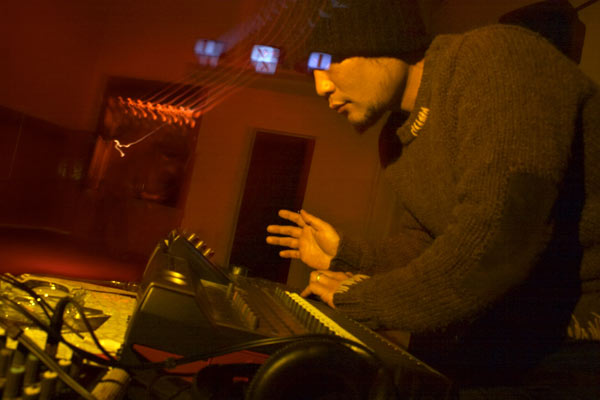 I went with Thomas to listen to music saturday night at Zentrale Randlage. It was really nice music and really nice people, Akira and miss Hawaii played there and was a true experience, you can see Them on the above photos.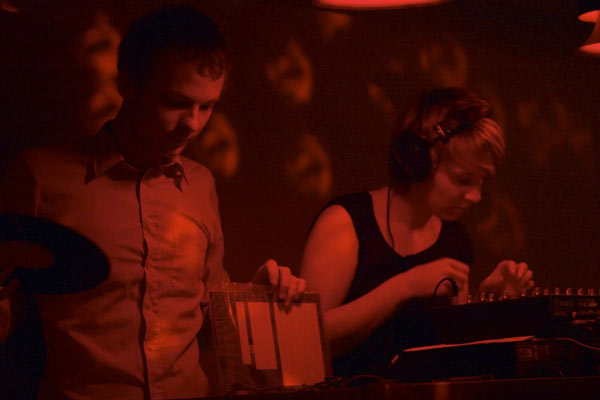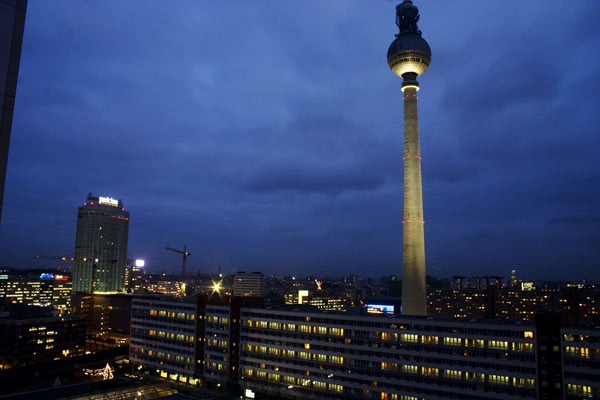 Sunday we went to listen to Thomas spining records at nbi. You can see Thomas and Steffi spinning records on one of the above photos. At nbi I also met Peter and Hendrik and when asked what not to miss in Berlin, Peter suggested the view from Hendriks appartment, So we arranged to go there the following day. You can see the view form Hendriks appartment on the city night shot above. Thanks a lot to Hendrik for letting us experience this spectacular view.
I left Berlin for Copenhagen tuesday. Thanks again to everyone for making my trip to Berlin fantastic.

Friday December 3 2004 Berlin, day one
Wow today I left aalborg at 03:15 in the morning to arrive by bus in berlin at 13:45, that is quite a long bus ride, but it was not all that bad, I used ear plugs so I actually got some sleep on the way down.
Today I met the big attraction for me in Berlin is the new World citizen Silas, the offspring of Trine And Sune from Aalborg who are having a semester in Berlin. So welcome to the world Silas! you ca see Silas and the proud parents on the top photo.
The World is an exciting place to be, this was illustrated by a demonstration we met on our way to do some grocery shopping, The demonstration was peacefull and featured fire jugglers,you can see one of them on the bottom of todays photos.

Sunday November 28
A busy weekend is coming to an end. It has been a quite busy weekend, Friday and saturday I edited video for the christmas party at the studenthouse. Friday night I went to Vesterå 4 to listen to Nathans debut at V4. the above photo shows him spinning records.
Yesterday at the christmas party the video was a big success! But I did not party through the night since today I were out to drive for the first time so hopefully I will have a drivers license sometime early next year.

Sunday november 21 2004 roleplay
This friday and saturday I was shooting pictures at ungdomsringens live role play in Kolding, It was much fun and good to see many happy youngsters having lots of fun. On the photo a fire dancing Richard appears.
Today I went to see Villum, he is going to Chigago to study next semester so he is selling some of his records. Check his site to se if there is something for you. www.autofunk.dk

Friday November 5 2004 Music for toys
Hello... Again, It has been a while since I have updated, sorry for that. Because of the long time with no update you get two photos this time. the top photo is shot at the conservatory here in Aalborg where my friend Thomas Ahlmark is doing his studies, He made this event to show his fellow students electronic music. What a fantastic evening lots of great music, not made traditionally. On the photo you can se Christian and his friend doing wonderful music using toys. The other photo is shot at Dirty Dansk in Copenhagen where Casper LT played. It was nice to listen to D'n'B in copenhagen for once. The photo shows DJ 2000F doing his thing.

Wednesday August 4 2004 Stella Polaris
Sunday the weather was sunny so I went to the Stella Polaris event behind the national museum of art in Copenhagen. the day feature nice (allthough a bit boring) music.

Friday July 2nd 2004 ovenfra.dk
The other day I got www.ovenfra.dk because I thought that it sounded cool. But then what should I use the domain for? Any suggestions will be appreciated, write your suggesions in an email
Note, for those who do not speak danish: ovenfra is danish and means: "from above".
Todays picture is shot somewhere over the Alps approaching Milan on june 17 when the aabtek sonar crew went to Barcelona via Milan.

Wednesday June 30 2004
From June 17 to june 20 I ewnt to sonar along with the aabtek crew. I was tonnes of fun, good musik, nice people and good weather. We stayed at Andreas place so many thumbs up his way. Andreas and the rest of the Laesk crew had arranged a parallel party where we also played and I did visuals. You can see pictures from the trip at aabtek.com and more in the KNY forum.
The above picture is of a nice french girl, dancing with glowsticks on strings, a bit like fire dancing. When I saw her I could not resist the obvious slow shutter photo oppertunity. When I went there I met Rob (If you read this, send me a note, especially if I'm wrong about your name). Rob also saw the photo options, only he used a Lomo Action Sampler Flash.

Friday May 28 Going to Copenhagen... again
Once again in a very shor period of time I yesterday went to copenhagen. The sky was exceptionally beautiful. so once again I shot out of the window of the bus. It was a very nice ride to copenhagen with good company.

Thursday May 20 2004 More clouds (and a chimney)
today I went to shoot some pictures of... Tadaaaa Clouds The dlg building looked really nice in the frame so I shot this picture. Unfortunately I could not shoot backlit clouds as I had hoped for since there were no clouds in front of the sun. Only a few times.

Wednesday may 19. Clouds
Yesterday I went back to Aalborg, on the way in the bus I shot some pictures of a fantastic sky! I were really looking forward to shooting some pictures from the ferry without shooting through a window. But when the bus came to the water the sky was almost clear:( no little clouds like over land. And when we came to jutland the clouds came back... Typical!

Saturday may 15 2004 Reclaim the streets
Yesterday I got fed up with all the weddingstuff all around, so I went to the Reclaim the streets Demonstration in Copenhagen. It was lots of fun and a lot of people.

Friday may 7 2004
On my way to copenhagen I went by Århus to shoot some pictures of The performance by Blue Foundation at Train. The photo is of Tatsuki warming up before the show.

Wednesday May 5 2004
This weekend People who went to Studenthuset could experience a ton of interesting new bands. Some making nice quiet electronica, others playing rock and then the allmost evil looking people playing metal! the above picture shows Mnemic looking evil. It was quite fun. :)

Sunday April 12 2004 Vesterhavet
Next to the cottage where, we spend our time at the moment to prepare for Søvnig Mandag on tuesday, lies Vesterhavet - the North Sea I spend some time photographing stranded goods. I have gone totaly timelapse mad and want to timelapse all the time.

Saturday April 11 2004 Timelapse
Yesterday I made a small timelapse movie using my dslr camera, the result was very good exept for the dew that collected on the lens during the hour outside by nightfall. once the dewproblem has been solved amazing timelapse films can be made using equipment I allready have! The above image is a scaled down version of the first frame from the timelapse movie, the original is 3072 by 2048 pixels in size. I look forward to the day we have equipment that can actually play movies at such resolutions.

Sunday April 11 2004 Raabjerg mile
Today we went to Raabjerg mile that is moving close by the summercottage. Lot of pictures were taken and a lot of sandwalking has been done consuming greatly on our energy reserves.

Saturday April 10 2004 Skagen
Today Claus and Gregers came over from copenhagen to go to a summer cottage. Before we went to the cottage we went to Skagen to shoot the wild waves in the wild wether... unfortunately the weather was very nice so we got some other pictures than we had hoped for but none the less good! A great thanks to Morten who was kind enough to drive us around Nordjylland.

Saturday April 10 2004 Teknosumpen
Yesterday I VJ'ed at the 10 years anniversary of tht Teknosumpen parties. They outdid themselves musicwise and I myself was very happy with the visuals the by accident turned out very good.

Friday April 9 2004 Industry
Yesterday I went with Mariola to film and photograph some industry at the harbour. Among other footage we made some quite good timelapse film of clouds over Aalborg.. Nice!
The photo above is from a stack of roof topping (or whatever it's called).
Tonight I am going to do the visuals at the Teknosumpen ten years aniversary... lots of boom boom it will be a lot of fun.

Wednesday April 8 Andrews place
Yesterday I went over to Andrew to picup e Mixer that I will use this Weekend when we go to a cottage to make music, shoot pictures and video. Andrew has a lot of funny stuff including this one! It's a syntheziser and the knobs have no labels so it will be more or less random what you play.

Thursday April 1st. Condensation trails
Today as I were out to get my groceries I saw these condesation trails. I hurried my camera out. While getting my camera the trails were disappearing but I got the above shot. Ten seconds later the trails were gone. I suppose one lesson from this experience is don't wait if the scenery is there shoot.

Wednesday march 31 Århus
Today I went back to Aalborg from copenhagen, I shot the above photo when entering Århus harbour.

Sunday March 28 Synthi A
Yesterday Lau and I went to visit the band Strohm that Lau had met earlier. We showed what our video software can do and in general had a very pleasant evening. The climax though was when Per brought his EMS Synthi A to the table and let me tweak the knobs! Lau took the oppertunity to shoot pictures of me being very exited to tweak the knobs on such a unique historical instrument! A result is seen on the photo above. If you think the instrument sounds exiting, at least I find it exiting, don't hessitate go to the EMS homepage and order one for your self (a bit pricy though).

Friday March 26 Theremin Masterclass
To day I went to experience Lydia Kavina, one of the worlds only Theremin virtuosos (perhaps the only one?).. It was a fantastic experience, Also present were Else Marie Pade, the grand old lady of danish electronic music. I am glad I got to shake hands with her! One the picture you can see Lydia Kavina instructing Else Marie Pade in the not so easy art of making notes on the Theremin.

Thursday march 25 2004 Going to CPH
Today I went to Copenhagen. The weather was very nice, so the sky appealed for a photo. The shot was taken as the ferry left Århus.

Wednesday march 24 2004 caffeine chock!
The other day Jens got an automatic espresso machine. It makes surprisingly good espresso. This machine will be the reason for me not having any sleep at all from now on. I found www.coffeegeek.com were some real coffegeeks are reviewing and in general making too much out of making coffe, fun though.

Wednesday march 24 2004 under siege
Suddenly noise appeared like helicopters were flying around just outside the window... They were actually. The picture shows one hovering over the remains of Nordkraft.

Monday March 22 2004
Today some of my pictures from the Blue Foundation concert saturday, were in Nordjyske. As well as on their web site included in their showwheel for shots from northern Jutland se this link. The above picture were on the front page.

Saturday march 20 2004.
Yesterday A "Super Heroes Revival" celebration was held here in the appartment. Many well known heroes were present.

Wednesday march 17 2004
Tonight I went to studenterradioen to listen to tweak, i know Jens, Nathan and Javier who were spinning the records tonight. You can see Nathan on the picture. Tweak is the techno radioshow on studenterradion if your'e in Aalborg you can listen to the show every wednesday at 2230 on 92.2FM.

Tuesday march 16 2004
I discovered that when you search for galakse, this site comes up top in google! Thats something isn't it?

Tuesday march 16 2004
Today the weather is quite gray. At least when seen from my window.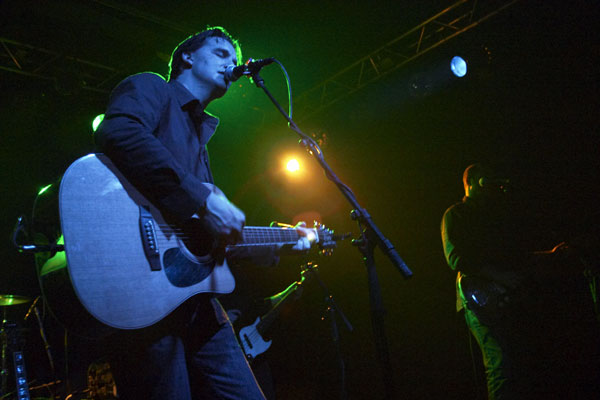 Monday march 15 2004
The picture appeared in Nordjyske yesterday, this time they remembered to give me credits, but wrote that Studenterhuset is in Skråen - it's strange? The photo is from the Sophia concert at Studenterhuset.

Saturday march 13 2004
Først og fremmest tak til Claus for at inspirere mig til at lave en blog. Se Claus' blog på hans hjemmeside claus.menneske.dk
Hmm skal jeg skrive på dansk eller engelsk? I think I will write in english mainly because english speaking people are seeing this website.
So why am I doing a blog. I don't know but everyone seems to be doing blogs at the moment so I'll have one too.
The picture is from Electrojam at 1000fryd where the lineup consisted of kiloton and Frequently asked followed by Badun and finally Karsten Pflum. A night full of incredibly good music and nice people. I had a bit to drink and a lot of fun. the picture is taken after the show when Anna told me how a friend of hers would like to take a picture of her eye, but had not done so yet, so I shot a frame of her eye.