In 2006 I started the label Urlyd with Christian Villum the ambition was to establish a label working in our network of wonderful electronic musicians and visual artists.
My skills have been put to use in A&R, DVD production, Audio postprocessing, visual content creation, photography and event tech coordination.

First release on Urlyd is Tone - Small Arm of Sea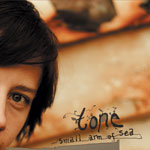 From the label profile on urlyd.com
URLYD is a Danish audiovisual recording label specializing in releasing electronic music and video. URLYD's musical profile spans the entire electronic spectrum ranging from lush, ambient landscapes and abstract glitch sounds over vocal driven electronica singer-songwriting to more challenging, danceable breaks and beats. URLYD adds a visual dimension to their releases in the sense that all album releases consist of both an audio disc (either vinyl or cd) and also a dvd that contains a full length video version of the album, enabling the URLYD artist to explore their audiovisual expressions – often in collaboration with an established video artist. As an added bonus, each URLYD release features interactive info on future releasing artists as well as a unique little URLYD feature for your home. URLYD is a founding member of LABELKOLLEKTIV, a informal association of small independent record labels with reference to the city of Aalborg in Denmark.